(CNN)
-- Your therapist's name is ELIZA, and she interacts with you through text on a computer screen. However embarrassing or difficult your problem may be, ELIZA will not hesitate to ask you a question about it, or respond graciously, "That is very interesting. Why do you say that?"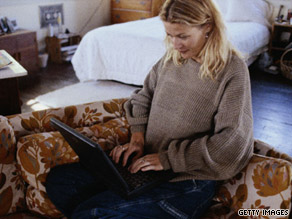 Internet-based therapy may help people who wouldn't otherwise seek the help of a psychologist.
Computer-based therapy has come a long way since ELIZA, a 1960s computer program designed to emulate (and parody) a therapist. Today, with the Internet, people can use the instant message format to communicate with real therapists.
A new study in The Lancet suggests that real-time chat therapy with a psychotherapist is successful in helping people with depression.
Participants were randomly assigned to either receive online
cognitive
behavioral therapy in addition to usual physician care -- which may include antidepressant medication -- or to continue their usual care and be placed on a waiting list. The intervention consisted of up to 10 55-minute sessions, five of which were expected to be completed by the four-month follow-up.
Of the 113 people who did online therapy, 38 percent recovered from depression after four months, compared with 24 percent of people in the control group. The benefits were maintained at eight months, with 42 percent of the online therapy group and 26 percent of the control group having recovered.
Read More...